Advancing Health Care in Pictou County
Over the past 35 years, the Aberdeen Health Foundation funded more than $26 million in capital and service improvements to the Aberdeen Hospital and community. While the mandate expanded over the years to include population and mental health, hospital based technology advancements and innovations in patient care remain the primary area of investment.
Since 2018, the Foundation invested almost $600,000 in perioperative (surgical services) upgrades alone. Last year, investments included new anesthesia workstations, new patient monitors, a surgical OR bed, additional laparoscopic equipment and more. Some of the upgrades were part of COVID readiness planning, while others helped meet new and evolving standards of care or replaced older equipment that no longer supported new levels of technology.
"We are very fortunate and grateful for the support of our Foundation," says Alana Toole, Health Services Manager, Perioperative, Endoscopy and Medical Device Reprocessing Service for the Aberdeen Hospital. "New equipment benefits patients and surgical staff, and also helps with physician recruitment. The Foundation's impact extends beyond the hospital and surgical program and touches the entire community."
Photo Caption: The Aberdeen Hospital's Perioperative (Surgical Services) program has a broad reach, serving the local community and offering provincial Orthopedic and Pacemaker programs. Pictured are Perioperative Registered Nurses with some of the new equipment to be used in: the Endoscopy Suite, Alana Toole(top); Operating rooms, Janine Chisholm (top inset); and Recovery Room, Bonnie Fraser.
Amplifying generosity
to advance health
care in Pictou County
The Foundation wrapped up 2021 with a new vision, mission, and strategic direction. The plan maps out a path for robust support of the health system and initiatives to improve population health. Investment priorities are in the areas of patient care, equity and access, and mental health. Particular emphasis is on prevention and early intervention programs that deliver both physical and mental health outcomes. The Foundation will work to engage health system, community, and government partners to create a Pictou County where every person has the opportunity to attain their best health.
Learn more: aberdeenhealthfoundation.ca/about
Building on a Strong Foundation
This past year required us to rely heavily on hope and perseverance in challenging times. My faith in humanity was regularly validated through stories of our health care heroes and the incredible work they do. Health care practitioners, administrators, support workers, and allied professionals improve people's lives every single day through their efforts. Our Foundation Board includes volunteers from the health sector and a variety of other fields who share unwavering commitment to the needs of patients and staff. Witnessing their dedication inspires and fills me with gratitude.
Last spring, Jim Gogan, our founding Director and longest-serving Trustee passed away. It is particularly poignant that in the year we lost one of our most dedicated volunteers, we arrived at a new mission statement that so embodies and reflects the spirit in which he served for 35 years. Jim was driven by stalwart dedication to the founding vision to create a strong, stable fund to enhance health care. In reviewing this report and the funding commitments made in 2021, it's clear our Board remains dedicated to the promise of amplifying your generosity to advance health care in Pictou County.
Susan MacConnell, Chair
Before, during, and after the COVID pandemic, this is your Health Foundation. It was created for you, your family, friends, and neighbours. It began over 30 years ago with a vision of making it easier to provide high quality health care in Pictou County.
As we washed our hands and "stayed the blazes home" in 2020, nothing was easy. We witnessed considerable bravery and kindness. Barriers to good health have never been more visible. Mental health is on everyone's mind. The uncertainties and pressures on the people and systems providing health services are pronounced.
From medical equipment to community health programs, the Aberdeen Health Foundation is ready to provide support through this extraordinary time.  The Foundation understands its role as a consistent, reliable funding partner for health care. It's what we've done for over three decades and will continue to do for generations to come.
To our generous donors, this dependable financial support starts with you. You are change makers for those who work in the health system and champions for those who rely on health care and community programs. With deepest gratitude, we share some of their stories in our Report to Community.
Susan MacConnell, Chair
Susan MacConnell, Chair
Robyn Eaton, Past Chair
Lisa MacDonald, Vice Chair
Heidi Jamieson-Mills, Treasurer
Heather MacDonald, Secretary
Jeffrey Burrows
Dr. Patricia Craig
Cheryl Fraser
Janice Fraser
Clinton Keay
Harry Munro
Sean Murray
Dr. Chakshu Sharma
Heidi Sinclair
Frank Sobey
Marsha Sobey
Mark Wiseman
Generosity is the Heartbeat of Our Mission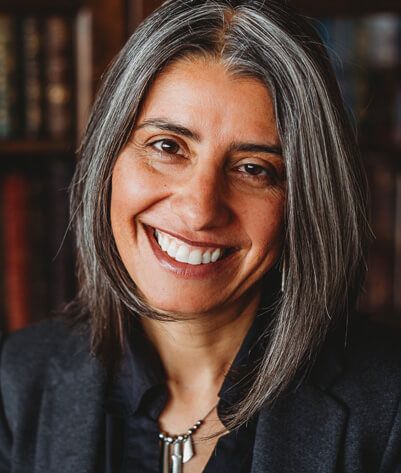 For many, 2021 is likely to go down in history as the year of dashed hopes. When I was a kid one of my favourite rides at the theme park was the Mind Buster. I loved the sound of the rickety wooden coaster, it added to the sense of speed and danger, there was the thrill of always losing my stomach in the same spot, and the excited anticipation of saving my loudest scream for the tunnel. The roller coaster couldn't be a more fitting analogy for our lives these past months, but my enthusiasm for the experience has notably dampened. It makes me realize that choosing where I put my focus can make all the difference. So, instead of dwelling in the uncertainty, I am noticing all the ways people have shown up this year to support the work of the Foundation. I am noticing the significant progress we have made and the remarkable growth in impact. And I'm noticing how generosity is at the heart of all of these things, how it builds bridges, and fuels our work. I'm noticing how generosity makes all things possible.
Michelle Ferris, Executive Director
1 Free Ride for Vaccinations
Last year, when the province subsidized transportation to vaccination clinics, the Foundation jumped on board and turned what would have been a $5 trip into a free ride for Pictou County residents. The subsidy was available through CHAD Transit and so far over 100 people have benefitted.
When her mom passed away, Ellen Jardine was deeply saddened and wanted to do something special in her honour. To that end, she created and sold lovely calendars showcasing her photography – with all proceeds going to the Ophthalmology Clinic at the Aberdeen Hospital. In March, Ellen proudly presented the Foundation with a cheque for $1,000.
The Foundation is excited to be funding an assessment to examine the population health needs of the residents of Pictou County, which may aid in the development of a local Community Health Centre. These non-profit centres are set up to deliver primary health care addressing health needs of patients through an equity lens. The project is driven by a remarkable array of volunteers and health advocates from the community.
4 Virtual Care @ Your Library
Pictou-Antigonish Regional Library, the Aberdeen Health Foundation and Nova Scotia Health created Virtual Care @ Your Library. The project aims to remove the barrier of technology that may prevent some people from accessing a virtual care appointment. Libraries in New Glasgow, River John and Westville have devices, high speed internet, private rooms for confidential appointments and staff who can provide technical support and assistance.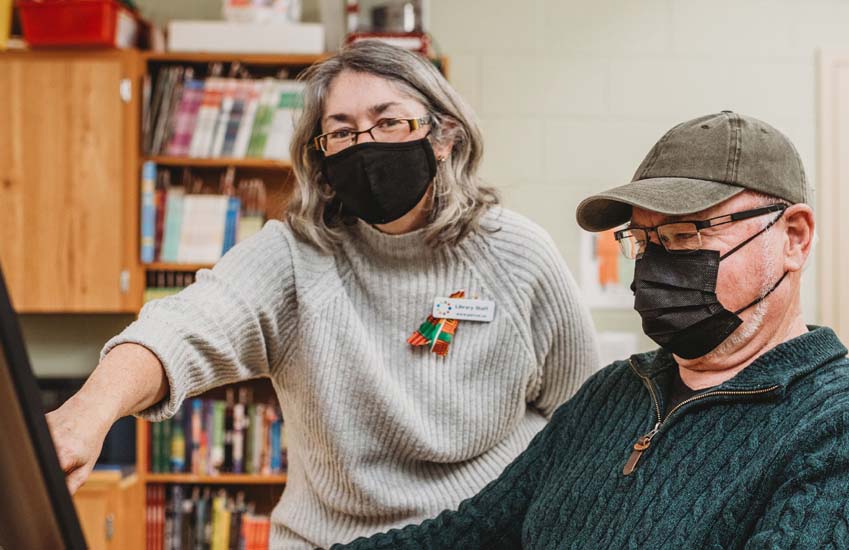 5 Recruitment and Retention
The Foundation is a funding partner in Healthy Pictou County, focused on the attraction and retention of health professionals. This year they supported the start of new specialists and family physicians, and celebrated the first graduating cohort of our Dalhousie Family Medicine North Nova site Residents.
6 Your Gratitude Goes a Long Way
The Foundation's Gratitude Program celebrates excellence in compassionate care. Anesthesiologist, Dr. Neal Reddy was recognized by Lorna Fraser for the kindness and extra time he took to get to know her son Liam and understand his special needs prior to dental surgery.
In 2021 the Foundation provided support for a variety of programs that impact mental health service options in Pictou County.
ART Training
Funding provided training for six Mental Health and Addictions therapists in Accelerated Resolution Therapy (ART). ART is an effective method that helps people move rapidly beyond trauma. The additional certified therapists will increase capacity and timely care and make it easier for patients to get the right help when they need it.
E-MENTAL HEALTH
Wait times and access to care are major challenges facing the delivery of mental health and addictions services. Recognizing the importance of addressing this situation, the Foundation contributed $50,000 to the launch of the province's e-Mental Health Program. The initiative provides a suite of virtual tools, available 24-7 and free of charge. Visit mha.nshealth.ca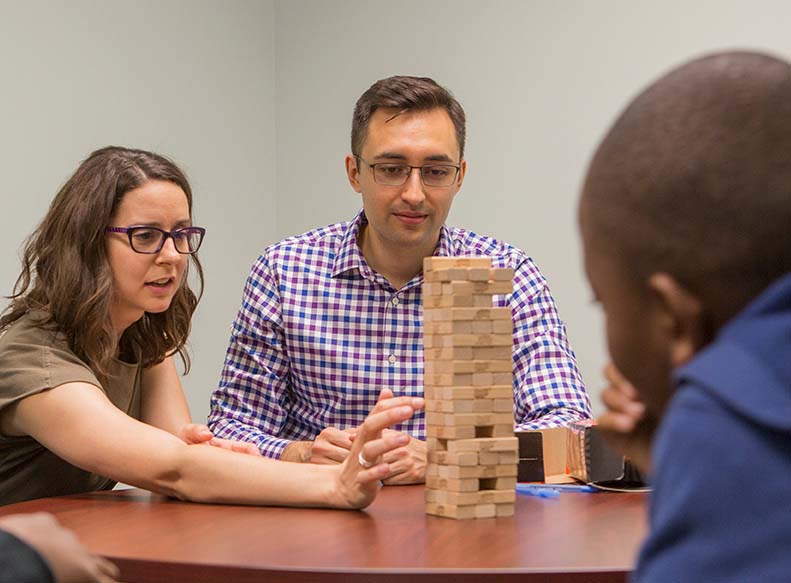 FORBOW
The Foundation provided $11,000 in funding for transportation subsidies for Pictou County families to access Dalhousie Medical Research Foundation's FORBOW program. The program aims to reduce the burden of mental illness through early identification of risk and targeted prevention. For children that are genetically predisposed to mental illness, the program has shown remarkable outcomes, with prevention of onset of illness in 70% of the cases. Visit forbow.org.
MENTAL WELLNESS TOOLKIT
The toolkit is an effort of Pictou County Mental Wellness Working Group and the Canadian Mental Health Association. The intent is to increase the ability of staff in frontline agencies to identify and respond to mental health concerns and help their clients navigate to available resources before a crisis occurs. "We're extremely grateful for the project funding from the Aberdeen Health Foundation." said Dominic Boyd, West Pictou Community Health Board Co-Chair, Pictou County Mental Wellness Working Group Chair.
The generosity of two anonymous donors made it possible to replace all six Aberdeen Hospital Palliative Care (PCU) beds with cuddle beds. These innovative otherwise normal looking hospital beds extend to allow greater space for physical contact between loved ones.
"The cuddle beds provide a sense of comfort and give families a chance to spend time with their loved ones in a less medicalized way," explains Dr. Anne Kwasnick, Medical Director Palliative Care. "They offer an element of compassion that makes it easier to embrace the inevitable with more empathy and grace."
The Aberdeen Hospital PCU focuses on providing patients with as much peace of mind and comfort as possible. People approach end of life in different ways and being able to provide options is important.
When a bed can be shared, the entire space and environment can be transformed. Having children on the beds, enjoying the simple intimacy of cuddling, or spending the night in a loved one's arms can be a wonderful gift and lasting memory.
COVID-19 created many challenges for hospitals, health care workers and patients, including the Aberdeen Hospital's Oncology Clinic. Requirements for social distancing meant the clinic had to be relocated within the hospital and services reduced from seven to five chemotherapy chairs.
The team approached the Foundation with a plan to create a new Oncology Clinic that will be a warm, welcoming space for patients and staff and will restore the program to seven chairs.
Today, with Foundation funding, phase one renovations are underway. Changes will provide for a larger open space that will maintain the required social distancing between patients. The large open space model is aligned with best practice and enables nursing staff to monitor all patients receiving treatment at all times.
"We are grateful that Foundation support has allowed us to reintroduce opportunities to bring care closer to home for more residents requiring oncology services," says Shawna Chenell, Oncology Health Services Manager. The program means an additional five to ten patients a week will be able to receive chemotherapy services in Pictou County.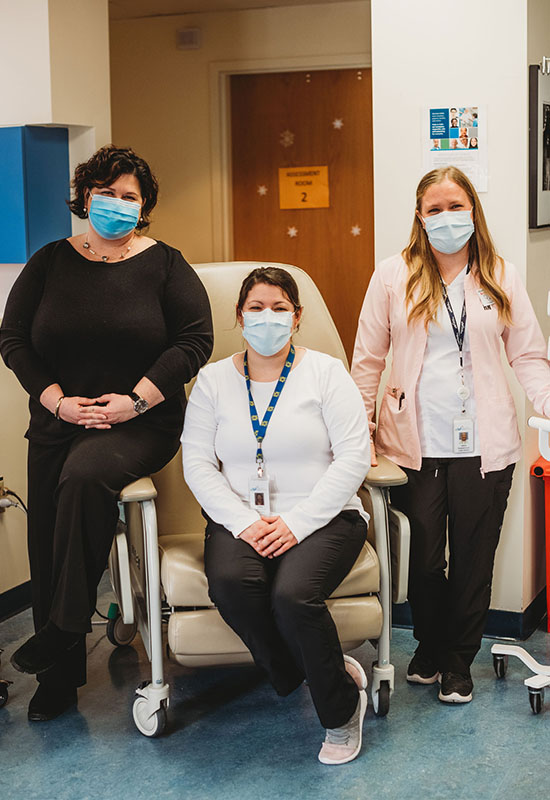 Your Will Can
Make a Difference
The Foundation has partnered with Will Power, a national movement to show Canadians the power they have to make a difference through their Wills. More than an important legal document, it is often overlooked that your Will can also be used as a powerful tool to create positive change. Wills and bequests have done exactly that for many years at the Aberdeen Health Foundation.
Estate gifts to the Foundation have helped build endowment funds, purchase equipment, create and sustain programming, and add valuable enhancements to the health care system in Pictou County.
| | |
| --- | --- |
| Medical Equipment | |
| Digital Radiography Room #3 (Diagnostic Imaging) | $500,000 |
| Cellavision (Lab) | $413,000 |
| Ultrasounds (2) (Diagnostic Imaging) | $290,000 |
| Bariatric Beds (1 each Medicine, Surgery, ICU) | $132,000 |
| Video Laryngoscope (Anesthesia) |  $35,000 |
| Blood Culture Incubator (Lab) | $31,000 |
| Medical Equipment (Various Departments) | $220,317 |
| Sub-total Medical Equipment | $1,621,317 |
| Music Therapy, Oncology Patient Fund & Other Health Programs | $72,366 |
| Medical Professional Recruitment | $50,000 |
| Oncology Clinic Project | $30,000 |
| Continuing Education | $27,988 |
| Recovery Support Centre | $27,500 |
Note: $395,000 of the above were funded from prior year over accruals.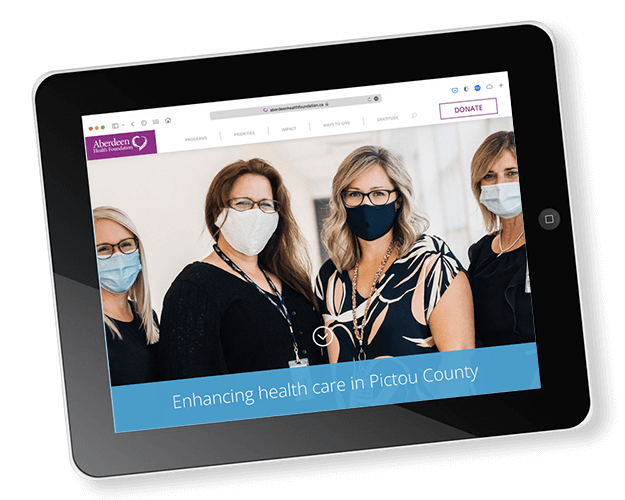 Aberdeen Health Foundation Annual General Meeting
Thursday, March 24, 2022 at 6:30 p.m.
For health and safety reasons this will be a virtual event.
Join us for the Virtual Grand Opening of the Aberdeen Hospital's Recovery Support Centre
(Withdrawal Management Unit)
 View the new centre, learn about the service and how it fits within the overall model of care available to people in our community who are taking steps towards their recovery.
Join us online: aberdeenhealthfoundation.ca/AGM2022
835 East River Road, New Glasgow NS B2H 3S6